CENTERS OF CARE PROGRAM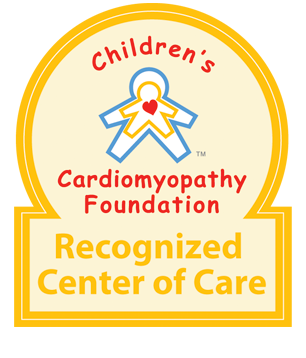 The Children's Cardiomyopathy Foundation's Cardiomyopathy Centers of Care Program recognizes medical centers with expertise in pediatric cardiomyopathy. A hospital that is a recognized Center of Care provides high-quality cardiac care and specialized disease management to children with cardiomyopathy.
CCF maintains a directory of Cardiomyopathy Centers of Care, which is made available to families on CCF Connect, CCF's private online community. Center profiles are provided to families to assist them in selecting a treatment provider. View CCF's current list of Cardiomyopathy Centers of Care.
Eligibility
The program is open to medical centers treating children who are at-risk or are diagnosed with cardiomyopathy. Centers must meet specific requirements to prove that they provide expert care and specialized disease management. To view center requirements, click here.
Hospital Recognition
Recognition is based on hospital data reported by centers and cross referenced against CCF's center requirements. Generally, recognized centers manage a high volume of pediatric cardiomyopathy patients, offer a variety of pediatric patient services, specialize in the treatment and management of cardiomyopathy in children, and are affiliated with an academic institution with a research focus.
Centers meeting CCF's criteria will be designated as a cardiomyopathy center of care for two years. Recognized centers receive a cardiomyopathy center of care seal and marketing materials to use on their website, social media, press release, and newsletter.
Application
New hospitals interested in applying should complete forms Part A & Part B. Previously recognized hospitals applying for renewal should complete both forms with updated information.
Part A: Hospital Information Form
Part B: Collaboration Form
Deadline
This year's deadline for submission is July 9, 2021. During Children's Cardiomyopathy Awareness Month in September, CCF will announce new Cardiomyopathy Centers of Care.
Questions
For questions, please contact Kristin Dube, Family Support & Medical Outreach Director, at 866-808-2873.