Dear CCF Friends,
Since our founding in 2002 the Children's Cardiomyopathy Foundation (CCF) has been making it possible for families to find the answers and support they need during an uncertain and anxious time. Until cures are found, we will continue to fund research on pediatric cardiomyopathy, advocate on a federal level, and serve families from around the world.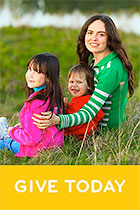 In the coming weeks, we will share stories of how our support services, research programs, advocacy efforts, and medical resources have made a difference for children with cardiomyopathy.
Finding Hope: Meet the Lombardos who turned to CCF's family community for support following their son's diagnosis.
Investing into Cures: Learn about how Dr. Bansal's research on pediatric cardiomyopathy is advancing the search for cures.
Having a Voice: Find out why Joseph continues to advocate for families living with cardiomyopathy even after his son received a heart transplant.
Providing Guidance: Hear about how Maria from Greece was able to get the expert medical care that was so critical for her son.
Help us to continue "making it possible" by supporting our cause and the work that we do. Give to our 2020 Spring Appeal so that we can reach our goal of raising $15,000 to fund support services and educational resources for children and families affected by pediatric cardiomyopathy.
With gratitude,

Lisa Yue
Founding Executive Director