BEREAVEMENT RESOURCES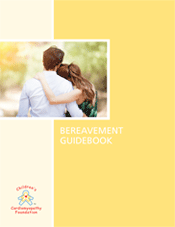 Bereavement Guidebook
When a child dies, it is difficult to make sense of such an unimaginable loss. It is a life changing event, and families are forever changed by it. For parents and caregivers, the emotional loss can be as difficult to accept as the physical loss.
Grieving is not easy, and each person grieves in their own way and at their own pace. Parents and caregivers may experience a range of emotions: shock, confusion, anger, sadness, guilt, and helplessness. Siblings may experience similar emotions but react differently based on their age.
While the loss of a child will never be forgotten, the pain of their absence will gradually ease with time. With the support of friends and family, it is possible to heal and find renewed hope for the future.
Family Resources
Based on years of working with bereaved families, the Children's Cardiomyopathy Foundation (CCF) has developed several bereavement resources for parents, caregivers, family members, and friends to help them understand, cope, and move forward.
The Bereavement Guidebook for parents and caregivers covers topics such as common feelings, differences in grieving, communicating with your partner, finding support, and remembering your child. Additionally, CCF provides a list of different bereavement sites on our Bereavement Resource Links page.
CCF's private online community, CCF Connect, provides a discussion forum specifically for bereaved families to share their experience with other families who have experienced the same loss. "Supporting Grieving Families: A Guide for Friends & Family" is another CCF Connect fact sheet that is accessible to registered members.