PROGRAMS AND SERVICES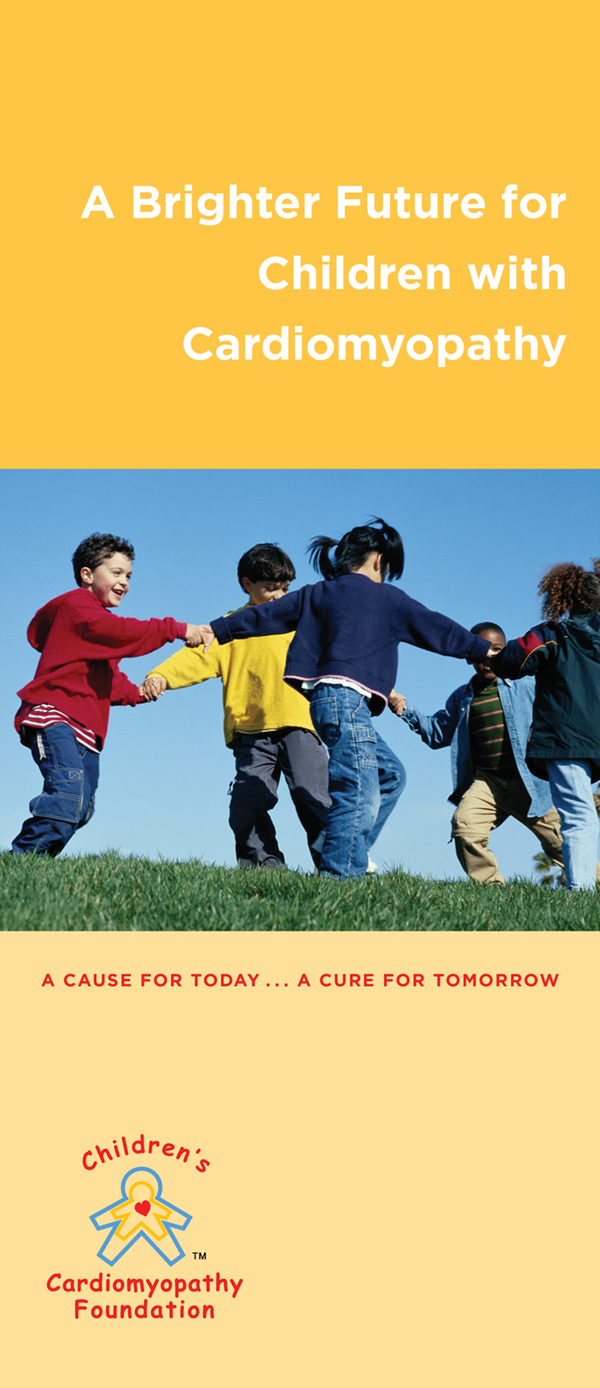 CCF Pamphlet
The Children's Cardiomyopathy Foundation (CCF) is actively involved in all aspects of the disease from research and education to awareness, advocacy, and family support. A range of programs and services are provided to meet the needs of both the medical and patient communities.
Since CCF's establishment, there has been a four-fold increase in the number of pediatric cardiomyopathy studies supported by the National Institutes of Health. The increase in medical articles and presentations has led to improved evaluation and treatment guidelines for children with cardiomyopathy. The impact of CCF's work was reviewed in "From Partnership to Progress in the Field of Pediatric Cardiomyopathy," published in Progress in Pediatric Cardiology.
The Foundation continues to make an impact in the rare disease field and is consistently rated as a top non-profit by America's leading charity evaluators GreatNonprofits, CharityNavigator, and GuideStar. For an overview of CCF's key achievements, click here.
Research
Promote the Pediatric Cardiomyopathy DNA and Tissue Repository as an available research resource to scientists and clinicians.
Offer research grants to promising investigators to better understand the disease, improve treatments and ultimately cure it.
Assist in patient recruitment for research studies and the dissemination of research findings.
Sponsor working groups and research studies in partnership with the Pediatric Cardiomyopathy Registry.
Organize medical conferences to provide a venue for researchers and clinicians from around the world to exchange information on the latest findings and determine research priorities.
Patient and Family Support Services
Provide relevant and timely information on pediatric cardiomyopathy through CCF's website and biannual newsletter.
Publish a variety of print, online and digital materials to help diagnosed children and their families understand and cope with the disease.
Maintain an information hotline to assist families with their questions and offer compassion to those who have lost a child to cardiomyopathy.
Provide telephone, on-line chat and in-person support groups, regional ambassadors, and an international community forum to help families connect to one another.
Offer a financial assistance program for low-income families in need during a child's treatment. Manage a database of individuals with cardiomyopathy as well as a database of physicians in North America who specialize in the disease.
Advocacy and Public Awareness
Advocate for increased federal funding of research, awareness and education programs.
Work with legislators and federal agencies to promote policies and programs that will improve outcomes and prevent premature death.
Provide opportunities and tools for cardiomyopathy families to advocate for their needs.
Expand public awareness of pediatric cardiomyopathy through media relations and publicity initiatives.
Train volunteers and CCF members to educate their local communities about pediatric cardiomyopathy.
Work with relevant coalitions and organizations on legislative initiatives to protect children at risk of sudden cardiac arrest, focusing on public awareness, AED accessibility, AED/CPR training and athletic pre-participation screening.
Patient & Physician Education
Disseminate information on the disease to families and medical professionals through CCF's website, newsletters, scientific meetings and other electronic means.
Promote the importance of genetic testing and family screening among at-risk and affected family members.
Develop patient education materials for national distribution to families, hospitals and schools.
Encourage medical centers to establish comprehensive care programs to improve the evaluation and medical management of children with cardiomyopathy.
Work with experts in the field to establish standards of care guidelines to ensure consistency in the diagnosis and treatment of pediatric cardiomyopathy